Article Written by : Online Soccer Champions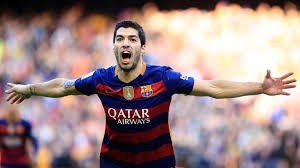 Luis Suarez has claimed that he had the chance to join Real Madrid but opted instead to sign for Barcelona, as he had always dreamt of playing for the Catalan outfit.
Luis Suarez claims that he had the opportunity to choose between Real Madrid and Barcelona and chose the former as he has always dreamt of playing for them.
He has already secured the Pichichi trophy given to Spain's leading goalscorer with 40 goals in the La Liga.
"Before the World Cup [in 2014], I was asked if there was a chance of me coming [to Barca]," the striker told BeIN Sports.
"Due to my style of play and characteristics, I said it was impossible.
"Getting to Barcelona was the dream I had. There were possibilities to join Madrid, but then Barcelona came in and they were the ones who supported me [after his bite on Giorgio Chiellini].
"From childhood, I've always had to overcome things. It's for this reason that I don't treat any ball as a lost cause."
Suarez is part of a formidable strike team with Lionel Messi and Neymar, adding that an off field friendship helped them work together. The three have scored 130 goals together this season.
"Many believe [the Messi-Neymar-Suarez relationship] is all an act, but it's a pure friendship because it's a friendship with zero envy and zero difficulties," he insisted.
"We get on well, both on and off the pitch. We talk a lot and advise each other a lot, even though it's difficult to accept advice from others at this level.
"Playing for Barcelona is what I've always wanted. I'm alongside the best players in the world, I've won the Champions League…
"I'll be able to tell my children and my grandchildren one day that I played alongside the best player ever [Lionel Messi]. It's something unique for me."
When asked about the fallout from the biting incident at the World Cup:
"[On the Chiellini bite], what hurts me the most is the way I was treated," he added.
"I was suspended for nine or 10 [Uruguay] games and couldn't enter a pitch for four months…