Article written by : Soccer Kits 2014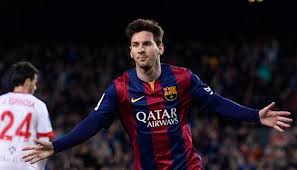 The good news for Lionel Messi is that he will avoid going to prison after defrauding the spanish tax authorities. The bad news on the other hand is that he has been fined $2.3 million. His father and him both received 7 month sentences for each of the three years of the fraud. The court stated that the fraud occurred between 2005 and 2007 according the authorities.
Barcelona issued the following statement after the verdict was handed down by the court: "giving all its support to Leo Messi and his father."
The statement added: "The Club, in agreement with the Government prosecution service, considers that the player, who has corrected his position with the Spanish Tax Office, is in no way criminally responsible with regards to the facts underlined in this case.
"FC Barcelona continues to be at the disposal of Leo Messi and his family to support him in whatever action he decides to take in defense of his honesty and his legal interests."
Messi is generally regarded as the best footballer on the planet and is Barca's all-time leading goalscorer. During his time with the club, Messi has won the European Champions League on four occasions and eight Spanish league titles.
Forbes ranked Messi as the second-highest paid athlete on the planet, earning an estimated $81.4 million last year through his salary and various endorsement deals.