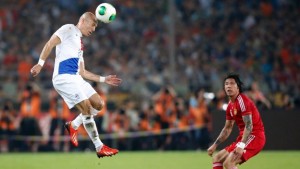 The latest research indicates that heading the ball in soccer may be more than a minor sub concussive event. The study shows that heading the ball and unintentional head injury during play are both associated with central nervous system symptoms like pain and dizziness.
The author of the study author Michael L. Lipton, MD, Ph.D., professor, Departments of Radiology and Psychiatry and Behavioral Sciences, Albert Einstein College of Medicine said:
"What I am saying is that heading, or at least high amounts of heading, is by no stretch an uncommon cause of symptoms, which means we need to think about what the bigger implications are for function."
Until now, authorities believed that unintentional head injuries due to collision or bumping the goal posts were the primary cause of soccer concussions. Heading was considered to be a more controlled and intentional act, which if done properly would have less effect. However, as the doctor points out in the study, soccer balls travel as fast as 120 mph.
Participants in the study filled out a questionnaire detailing intentional and unintentional heading along with any specific CNS-related symptoms from the last two weeks. The researchers chose the two-week period as it was the best balance of recall and volume of activity.
Heading in soccer has never received much attention. This research should help put it on the map and make it a serious part of the soccer-related injury research going forward:
"Although the current study does not provide evidence to determine whether there is a long-term consequence of heading, it stresses the need to put heading in soccer on the international research and policy agenda."