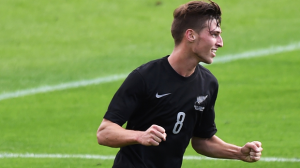 After the US U-20 team won group F, they play the New Zealand U-20 in the FIFA U-20 World Cup in the next round. Here are five things you should know about the all-whites:
After opening the round with a 0-0 draw, New Zealand came second in group E. This pits them against the winners of group F, the US. The junior all-whites missed the top spot after they lost 2-0 to France. The team qualified for the U-20 World Cup by winning the 2016 Oceania Football Confederation U-20 Championship.
This is the fifth time New Zealand is in the U-20 World Cup. In all previous instances of the tournament, the team was eliminated at the group stage without a single victory.
Hunter Ashworth (University of San Francisco), Joe Bell (University of Virginia), Noah Billingsley (UC Santa Barbara), Lucas Imrie (Loyola-Chicago), and Connor Probert (University of Kentucky) are five players that play for U.S colleges.
Just before the start of the U-20 World Cup, Myer Bevan signed with the Vancouver Whitecaps, making him part of the United Soccer League. Bevan was part of the Nike Football Academy, a full-time training program in England.
The manager of the New Zealand team is Darren Bazeley, who played 283 times for the Watford Hornets. He ended his career playing in New Zealand for the Knights and Waitakere United. His coaching career began in 2008, where he rapidly moved from the assistant coach U-17 squad to the coach of the U-20 team.