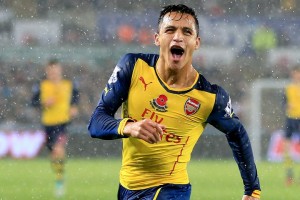 International striker Alexis Sanchez has recently signed for a long-term contract to join Arsenal for the price of £35 million.
Aged 25, the Chilean forward has an impressive track record with over 47 goals scored in 141 appearances for Barca and has recently scored twice during the World Cup in Brazil. He has completed his medicals last Thursday in London and is expected to join Arsenal by the end of July after some post-World Cup holiday.
Sanchez affirmed that he is happy about his decision of leaving Barca to join Arsenal. He qualified Arsene Wenger as "a great manager" and respects Arsenal's players and the support that the team has from around the world. Sanchez is also excited to play the Premier and Champions League. Wenger has in turn praised Sanchez' game during the World Cup adding that the striker would bring power, creativity and quality to the team.
The Gunners have yet to sign in more players. French right-back player Mathieu Debuchy is believed to be in negotiation with Arsenal as well. The team is also still on the lookout for a holding midfielder and a backup goalkeeper.
Among the other teams that have shown a keen interest in Sanchez, was Liverpool, which was expecting to move striker Suarez from Anfield to Nou Camp but the transfer is now expected to be straight cash. Juventus had also expressed interest in the Chilean forward but the Italian team is recently reported to be finalizing negotiations with forward Alvaro Morata from Real Madrid.