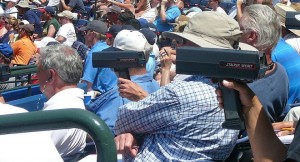 Some people might know the exact type of radar gun they're looking for before going online to order one. But for those who plan to purchase this piece of equipment for the first time, finding a radar gun that meets your needs as well as your budget can be time consuming. It can also be overwhelming. With so many radar guns on the market, how do you know that you're buying the right one at a good price? Avoid wasting your time and money; follow these tips on how to find the best radar gun to fit your needs and budget.
Determine your needs. Radar guns are created for different uses. Are you looking for a sports radar gun to clock the speed of a baseball? Or, do you need a law enforcement radar gun to clock speeding vehicles? From sports radar guns to police radar guns, options run the gamut. Even if you're searching for a sports radar gun, you will need to find a radar gun that has been specifically designed for the sport or sports you will be using it for.
When it comes to sports radar guns, options include radar guns for baseball, softball, golf, tennis, car racing, archery, RC models, and even paintball.  Police radar guns also vary from model to model. Police radar guns include traffic guns, hand-gun radar guns, in-car video systems, and speed trailers.
Shop online. While many people enjoy shopping online, there are still others who rather visit a brick and mortar shop. However, on the internet, you don't have to deal with commute, parking, crowds, and sales people. You can browse for Speedtrac radar guns in bed or while drinking your morning coffee. Shopping for a radar gun online is easier than shopping for other items such as clothing on the web. You don't have to try it on. What's more, you can find great deals online and be selective about the price you're willing to pay.
Purchase a name brand. It's important to purchase a high-quality radar gun, especially if you're planning on spending a few thousand dollars. However, on your hunt for a good bargain, you might miss out on quality. To ensure that you're getting a good product for the price, limit your choices to name brand radar guns. Some of the most reliable brands in the industry include Bushnell, Jugs, Sports Sensors, and Sports Radar. Another way to check is to ask the retailer.
Don't pay for shipping. Why pay for something when you don't have to? Once you've found the right radar gun for the right price, consider buying it from an online retailer that offers free shipping. It's just another way to save money while shopping for radar guns.
————————————————————————————————————-
This feature article has been sponsored by Radar Gun Sales, an online retailer of high-quality sports and police radar guns. Find a stalker radar gun or baseball radar gun today.