Written by Soccer Shoes.us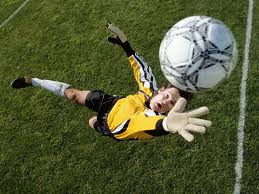 Being the goalkeeper on the soccer team is a lot of pressure. Everyone expects you to make the all important save and win the match. When one does get through, even when it's the most impossible save, you get the blame. Nobody remembers the mistake that got the positioned to strike at the soccer goal, just the person who couldn't make the save. Having said that the position is a lot of fun for those who can handle the pressure. In order to be a good goalkeeper, there are a few characteristics that will help. Here are a couple of them:
Reactions
Two level of fast reactions are important. The first is to be able to think really quickly. The other is to put those thought into action and react fast. Being able to do both of those together can take some practice.
Anticipation
This goes hand in hand with reactions. You will need to be able to consistently anticipate where the ball is going and what the next event after that is going to be. This is the key to getting into the right position.
Stopper
You will also need to be brave. It takes guts to figure out where the ball is going, get yourself in position and then charge the ball. Especially when it come to claiming the ball over your teammates.