Summary: This guide is designed to help you pick and choose the right gear for your game.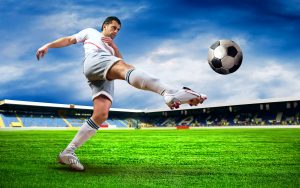 A crucial part of the game of soccer is finding the right gear that suits your playing style adequately. Now, soccer equipment varies greatly from product to product. But it doesn't mean that the most expensive gear translates to a professional transformation the moment you put it on. Rather, the gear should ultimately feel comfortable – this is the most important thing to remember. This guide is designed to help you save money on the right gear for your game.
Soccer Shoes

There are essentially two types of soccer shoes available: soccer cleats and indoor soccer shoes. Soccer cleats are intended for use on natural grass while indoor soccer shoes are meant for indoor play. There are several models that allow for the player to have a hybrid shoe that works well in both indoor and outdoor settings. Ideally, you'll find that the difference lies directly in the soles.
Soccer Balls
There are three types of soccer balls that are primarily used in the game: rubber, synthetic, and leather. Each of them have their pros and cons and, depending on the user, could help with a player's overall handling skills.
Rubber soccer balls are extremely durable and cheap. But, they aren't used in league play and are significantly different than leather or synthetic balls. Synthetic balls are also durable and take on a feeling of leather. This is the most popular choice and is utilized in most leagues. Leather soccer balls used to be more popular before synthetic balls took over the center stage. They have excellent feel but aren't very durable – if you're looking for cheap soccer balls these might not be the best bet for you.
Goalkeeper Gloves

Every goalie requires specific gloves to ensure maximum padding and flexibility. They must have a tacky surface that helps grip the soccer ball well. A smooth latex is ideally the best material for soccer gloves and work well in all situations. Textured latex is a more durable alternative but it lacks the grip that a goalie needs in a game. Now, since good latex-grips tend to wear out somewhat quickly, it's always wise to have an extra pair of goalie gloves for practice and a separate pair for games. This way, you won't come in to the game with a pair of worn out gloves that won't do much for you during the time where it matters most.
---
Bio: Spike Soccer Store is your home for cheap soccer uniforms and other premium soccer equipment. For more information, visit Soccer Garage online today.