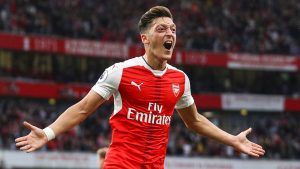 Just last week Barcelona completed the signing of Ousmane Dembele from Borussia Dortmund. Also, they continue to pursuit Philippe Coutinho, even though it is clear that Liverpool does not want to sell. Now, it looks like they no longer believe it is possible and wants Mesut Ozil instead.
Normally, Arsenal would not consider selling one of their star players. However, they have shown interest in world cup winner Arda Turan. According to newspaper reports, the two clubs are in talks over a deal to swap the two players. Barcelona feels they no longer need Turan in the squad and Ozil is reluctant to extend his contract.
Ozil's arrival at Arsenal brought about a golden era at the club. With him in the team, the club won three FA Cups and Community Shields. However, Arsenal is no longer the force they were, and as a result three of their star players (including Ozil) will not extend their contracts.
Arda Turan, on the other hand, arrived in Barcelona at the start of 2015/2016 and spent most of the time on the bench. Due to a transfer ban, the Turkish international has languished in the team without enough game time to show his potential. The 30-year-old made 30 starts for the club and scored 13 goals, but is considered surplus for the team.
The swap makes perfect sense, especially for Barcelona. Bringing in Ozil will take some of the pressure off Messi and bring a playmaker in his prime into the team. The move does not make too much sense for Arsenal, who will give up one of their best players.